About Quint Company
Quint Company is a trusted source for flexographic printing plates. We offer a wide range of plate materials to meet our customers needs. Quality is our highest priority. Quint is the leading provider of flexographic printing plates for medical packaging, and a pioneer in pharmaceutical bar code blister packaging for over 30 years.
Quint has worked with packaging companies that serve some of the biggest names in the food and consumer packaged goods industries. We are a dedicated leader in flexo innovation, focusing on continual improvement.
Our Vision
Dependability is the cornerstone of the Quint Company. We are committed to fulfilling our responsibilities and satisfying the needs of our fellow associates and customers. All our relationships are based on integrity and fairness.
Our Mission
To honor God by excellent manufacturing and marketing of our Graphics and Marking products and services, through the implementation of Biblical principles, in our daily relationships with our associations, customers, vendors, and in our neighborhood.
Quality Policy Statement and Objectives
The Quint Company is committed to providing products and services that meet or exceed the expectations of our customers. We will achieve this by our total and continuous dedication to World Class Quality in all stages and phases of our production cycle, from beginning to end, and from top to bottom. This policy is implemented by thorough training of our employees so they understand who their customers are, what the requirements and deadlines are, and thus, the application of the proper procedures needed to meet those requirements and standards, on time without error, each and every time. Providing quality products and services is the responsibility of everyone in our company.
The objectives of our quality program are:
Compliance with customer requirements
Compliance with customer schedules
Customer Satisfaction
Eradication/minimization of waste, duplication and the repair and prevention of their reoccurrence.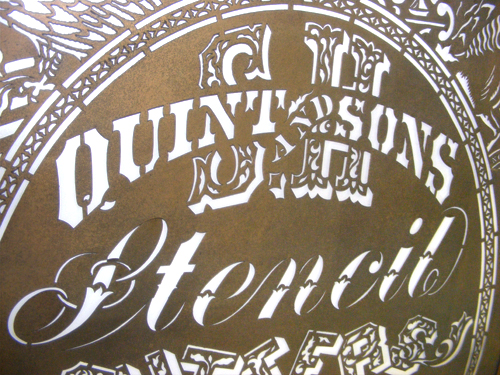 Almost 200 year old stencil used to mark the top of SH Quint and Sons Barrels.
History behind us
170 Years and Counting
Quint Company was founded in 1849 by S.H. Quint making its mark on Old City Philadelphia's history. For 100 years their offices at 4th & Chestnut Streets, sometimes referred to as the Quint Mint, produced stamps, stencils, medals, badges, rags and coins such as the Masonic Chapter pennies.
Over the years, our company, founded on a gold-rush fortune, has been continually making history. In 1876 Quint Company was recognized at the Centennial Celebration- a commemorative stencil was created in honor of the event. Quint products have even traveled to the moon, aboard the fourth Apollo mission in 1969.
In 1971, after more than 100 years on 24 South 4th Street, Quint expanded to larger offices on Letitia Street to further develop its graphics division. Today, the Quint Company has grown from a small stamp and stencil producer to a full service manufacturer, capable of servicing every facet of the marking and packaging industries. Now with offices on Castor Avenue, we have merged years of industry experience with advanced technological equipment to provide customers with the best end products available.
Our Core Values
God Honoring • Servanthood • Dependability • Integrity • Truth • Fairness • Trust • People More Than Position • Strong Work Ethic • Stewardship